8500 Series Grapple Loader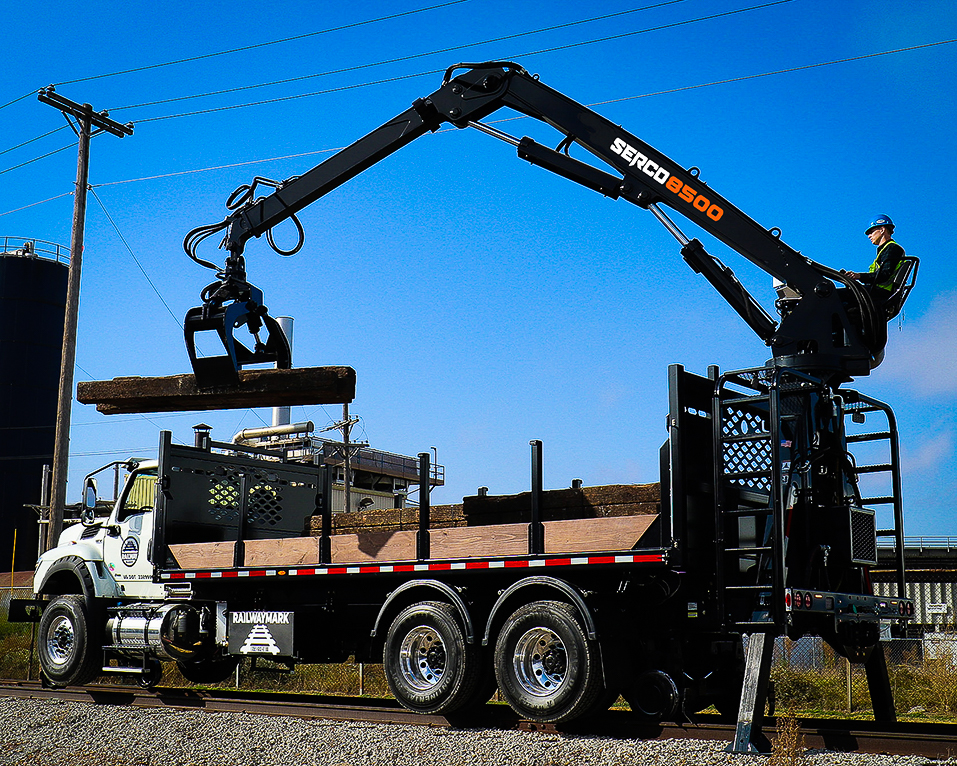 8500 Series Mounted Loader
Whether You Are Looking for a Truck-Mounted Grapple Loader or a Trailer-Mounted Knuckleboom, Serco Will Ensure You Get the Right Loader That Fits Your Needs!
The Serco 8500 grapple loader has become one of our most versatile grapple loaders. Our trailer-mounted grapple loaders and truck-mounted grapple loaders are the material handling equipment of choice for dealers in the logging, scrap, recycling, storm cleanup, railway, and waste industries. The 8500 series knuckleboom loader remains one of the most sought options because of its durability, lifting capacity, and stick-to-hydraulic functions.
Lift capacity: 8,976 lbs. Lift capacity at 10 ft. radius (less attachment weight.)

Boom reach: 22 ft. knuckleboom options to 28 1/2 ft. and 22ft. boom with 4ft. squirt (26ft. - 29ft. overall.)

Rotation: Continuous rotation on double-row turntable bearing.

Stabilizers: Telescoping a-frame type with 117-3/4" spread at grade level for adjustment on uneven terrain.
Tandem hydraulic circuits allow simultaneous operation without power loss.
Tandem gear pump providing 30 GPM at 1,400 pump RPM.
Stack-type control valves are underneath the seat for increased operator visibility & safety.
Including necessary relief and anti-cavitation valves for machine protection.
50-gallon A-frame-mounted hydraulic reservoir with high capacity, 10-micron return line filter and removable access cover (aluminum and steel remote hydraulic tanks also available.)
Folding joystick controls standard.
Four-wire reinforced hoses in all pressure applications.
Serco hydraulic manifold with ductile iron center spool & chrome-plated housing for continuous swing rotation.
INDUSTRIES SERVED
Waste – Serco's 8500 Series knuckleboom loader is ideal for trash collection and other waste management tasks.
Rail – Our railway grapple loaders are tailored to those looking for rail solutions across North America.
Arborist/Tree Care – Serco's 8500 Series knuckleboom log loader is a game changer in the heavy equipment industry and is the safest and most efficient method of tree removal.
Pipe/Pipeline – Our knuckleboom loaders can maneuver materials on and around the workplace site more effectively and efficiently.
Scrap – With Serco's 8500 Series knuckleboom loader, you can quickly pick up and load scrap in a single pass.
Storm & Disaster Cleanup – Our grapple loaders can effectively move debris and other garbage to the landfill faster than traditional disposal methods.
Demolition – With Serco's 8500 Series grapple loader, operators can break down, sort, and load materials much more efficiently.
Municipal – Our 8500 Series grapple loader is the solution for municipal solid waste.
C&D Recycling – Whether it is concrete disposal, debris removal, or recycling construction materials, Serco's 8500 series can get it done!
COMPATIBILITY
Truck-mounted log loaders

Trailer-mounted log loaders
Enjoy the unmatched performance with knuckleboom loaders paired with trucks such as Kenworth, Mack, Peterbilt, Western Star, and many more!
Options
Serco's trailer-mounted boom cranes and truck-mounted knuckleboom cranes come with different options, which include:
Full range of logging and forestry attachments, including continuous rotation log grapples.
Three-point greasing system for turntable bearing and pinion gear.
Telescoping jib knuckleboom cranes with separate valve and foot control.
Mechanical swing lock for safety during transit.
Dual, heavy-duty ladders.
Bolt-on gland cylinders.
Hydraulic oil coolers.
LED light kits.