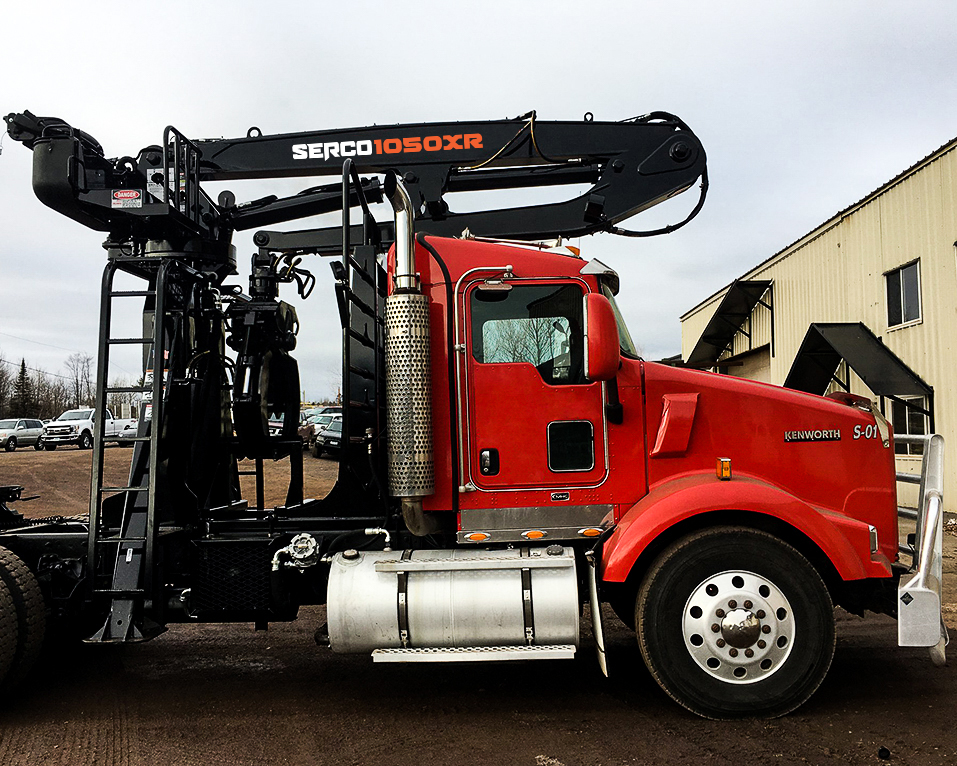 1050XR Series
Modeled After Our Popular 8500 Series, The Serco 1050XR Features Increased Lift Capacity & a Rugged, Durable Design Making It An Ideal Choice For Many Heavy Hauling Applications Such As; Logging, Railroad, Scrap, Waste & Storm Cleanup. This Trailer & Truck Mounted Log Loader Has Become The Number One Choice Because Of Its Versatilty!
Lift Capacity: 11,049 lbs. lift capacity at 10 ft. radius (less weight of attachment).
Boom Reach: 22 ft. fixed length boom standard. Fixed length and telescoping booms available to 29 ft.
Rotation: Continuous on double-row turntable bearing.
Stabilizers: Telescoping A-frame type with 117-3/4" spread at grade level for adjustment on uneven terrain.
Whether You're Looking For a Trailer Loader Or Truck Mounted Loader Serco Will Ensure You Get The Loader To Fit Your Needs!
Tandem hydraulic circuits to allow simultaneous operation without power loss.
Tandem gear pump providing 30 & 30 GPM at 1,400 pump RPM.
Stack type control valves located under seat for increased operator visibility & safety.
Including necessary relief and anti-cavitation valves for machine protection.
50-gallon A-frame mounted hydraulic reservoir with high capacity, 10-micron return line filter and removable access cover (aluminum and steel remote hydraulic tanks also available).
Folding joystick controls standard.
Four-wire reinforced hoses in all pressure applications. SERCO hydraulic manifold with ductile iron center spool & chrome-plated housing for continuous swing rotation.
COMPATIBILITY
Truck Mounted Log Loaders
Trailer Mounted Log Loaders
Pair Your Loader With Trucks Such As Kenworth, Mack , Peterbilt, Western Star & Many More!
Options
Full Range Of Attachments Including Continuous Rotation Grapples.
Three-Point Greasing System For Turntable Bearing & Pinion Gear.
Telescoping Jib Boom With Separate Valve & Foot Control.
Mechanical Swing Lock For Safety During Transit.
Dual, Heavy-Duty Ladders.
Bolt-On Gland Cylinders.
Hydraulic Oil Coolers.
Seat Belt Included
LED Light Kits.